Are you looking for an easy way to add art to your homeschool?
Would you like to combine history, geography, and art into one creative lesson?
With help from our friends at Southern Hodgepodge we are learning how to draw famous American landmarks using easy chalk art tutorials.
This post contains affiliate links. 
We are always looking for new ways to add hands-on learning activities to our geography and history lessons. Chalk art has become a favorite art medium in our house so we have enjoyed using the easy to follow American Landmarks Chalk Pastel Art for All Ages.
We have been able to see several famous landmarks, such as the Golden Gate Bridge and Washington Monument, in person while on family vacation. But others we have only been able to learn about through books and videos. By drawing the landmarks we now understand more about the details of these amazing structures.
During one of our History Co-op days everyone selected a different landmark to draw. We had just talked about the construction of the Statue of Liberty so one of our students decided to use that landmark as a starting point.
These beautiful chalk pastel art projects require only a few supplies and give kids an opportunity to add their own personal, creative touch to their drawings. For these lessons we just needed chalk pastels, paper, and the art tutorials in the American Landmarks Chalk Pastel Art for all Ages eBook.
American Landmarks: Chalk Pastel Art for All Ages is a downloadable eBook from Southern Hodgepodge. Included in this eBook are art tutorials with step-by-step drawing instructions for:
Golden Gate Bridge
Statue of Liberty
Lincoln Memorial
Liberty Bell
Niagara Falls
Grand Tetons
Delicate Arch
Mt. Rushmore
Washington Monument with fireworks…And MORE
The written instructions are very easy to follow. Sometimes we print the instructions for each child to follow, but often we simply open the eBook on our iPad and use the directions right from the screen (another sheet of paper for us to use for our masterpieces!).
To give your child a idea of how easy and fun chalk pastels are to use have them follow along with this wonderful video demonstration for the Golden Gate Bridge from the Southern Hodgepodge YouTube Channel:
American Landmarks: Chalk Pastel Art for All Ages really is enjoyable for ALL ages! Chalk is a fun art medium for kids to use – it is familiar (very similar to the chalk we use outside on the driveway), the bright colors are fun to use, and any "mistakes" can easily be "adjusted" by adding or blending colors together.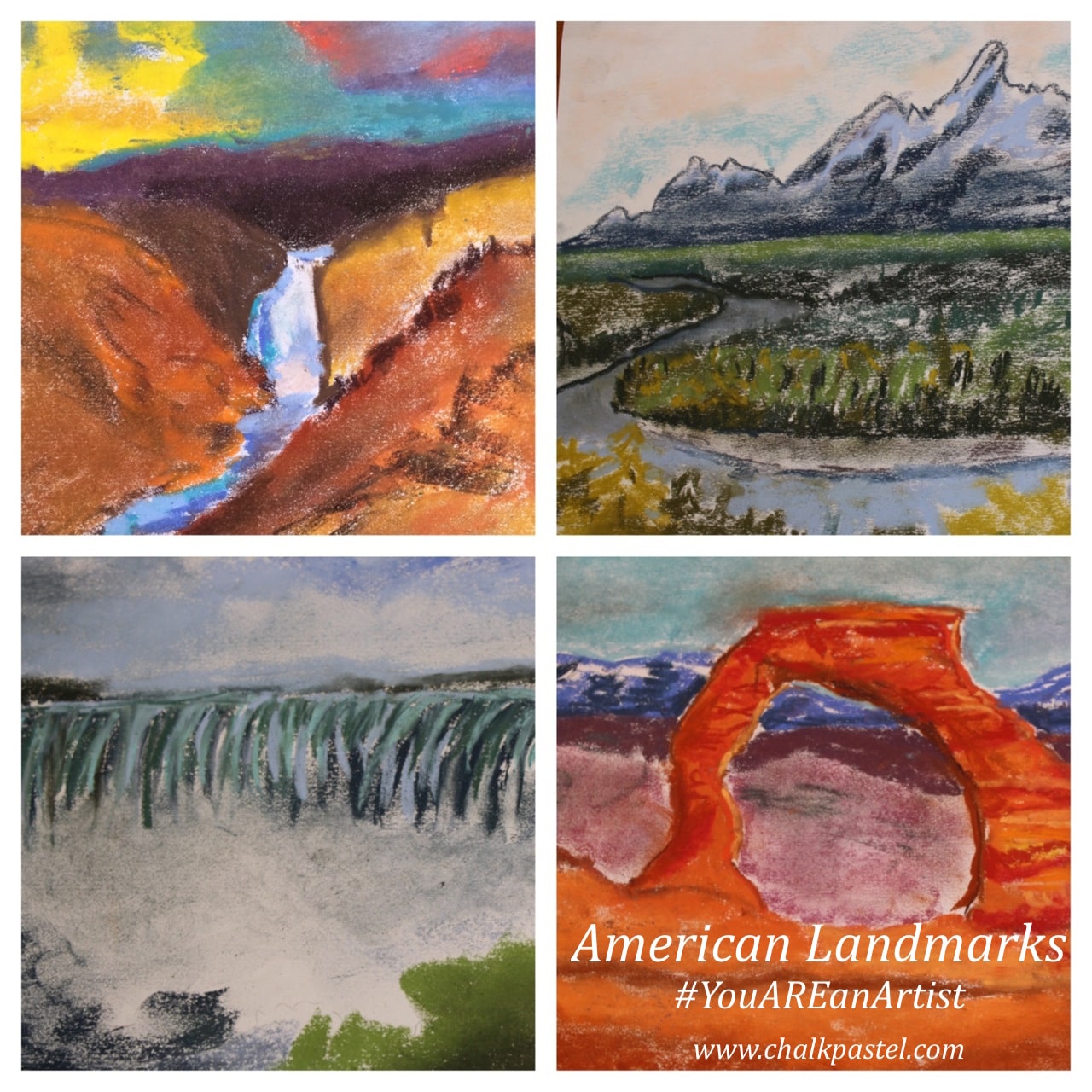 For more information and to download the American Landmarks Art Tutorials  eBook now, visit the Southern Hodgepodge Chalk Pastel website today!