4 Simple Reasons Why Homeschoolers Love Chalk Pastel Art
Chalk pastel art has been a favorite art medium of homeschoolers for years.
I think we can all agree that art is an important part of a balanced education. However, there are plenty of homeschooling families who have no idea how to add art into an already busy homeschooling day.
Not to mention the moms who don't feel skilled enough to teach art to their kids and the children who get frustrated while working through an art lesson.
Do you know that chalk art can solve all of these issues?
This post contains affiliate links.
Even if your family shines in the art department, you can benefit from adding chalk art to your routine.
How is this possible? How can chalk pastel exercises help those who struggle with art as well as those who love the subject?
Because chalk art is for everyone!
Why should you add chalk pastel art to your homeschool?
1. Chalk is Comfortable
Think back to when your kids were little. Did they spend time creating masterpieces outside on sidewalks and driveways with chalk? Sure! Chalk is a familiar (and nostalgic) medium for them. There are obvious differences between sidewalk chalk and chalk pastels, but after some practice, most kids have no trouble moving on to artist chalk.
Kids also love the bright colors found in chalk pastels. They'll want to get their hands dirty, just like they did when they were little, smudging the color to create a different effect or blending colors by moving their fingers back and forth over the chalk.
Just make sure to always test any new chalk on a scrap piece of paper because all brands are different. If you have a softer chalk you won't need much pressure to get the color you're looking for, yet harder chalk will require more strokes to cover large areas and will not blend as easily.
2. It's Easy on the Homeschooling Budget
As you know, adding art to your home school is expensive. You not only have to purchase the curriculum, you have also have to buy all of the supplies. There's no free trial. If your kid hates the art medium you choose, you have to start all over.
Luckily, with chalk pastels, you can start small to see how your child likes it before you go all in. When I wanted to give chalk art a try, I spent less than $30. That's right, $30. And the tools I bought lasted through MANY chalk projects!
I purchased Chalk Pastels Through the Seasons eBook, a box of 24 piece of chalk pastels, a pad of pastel paper, and a package of baby wipes.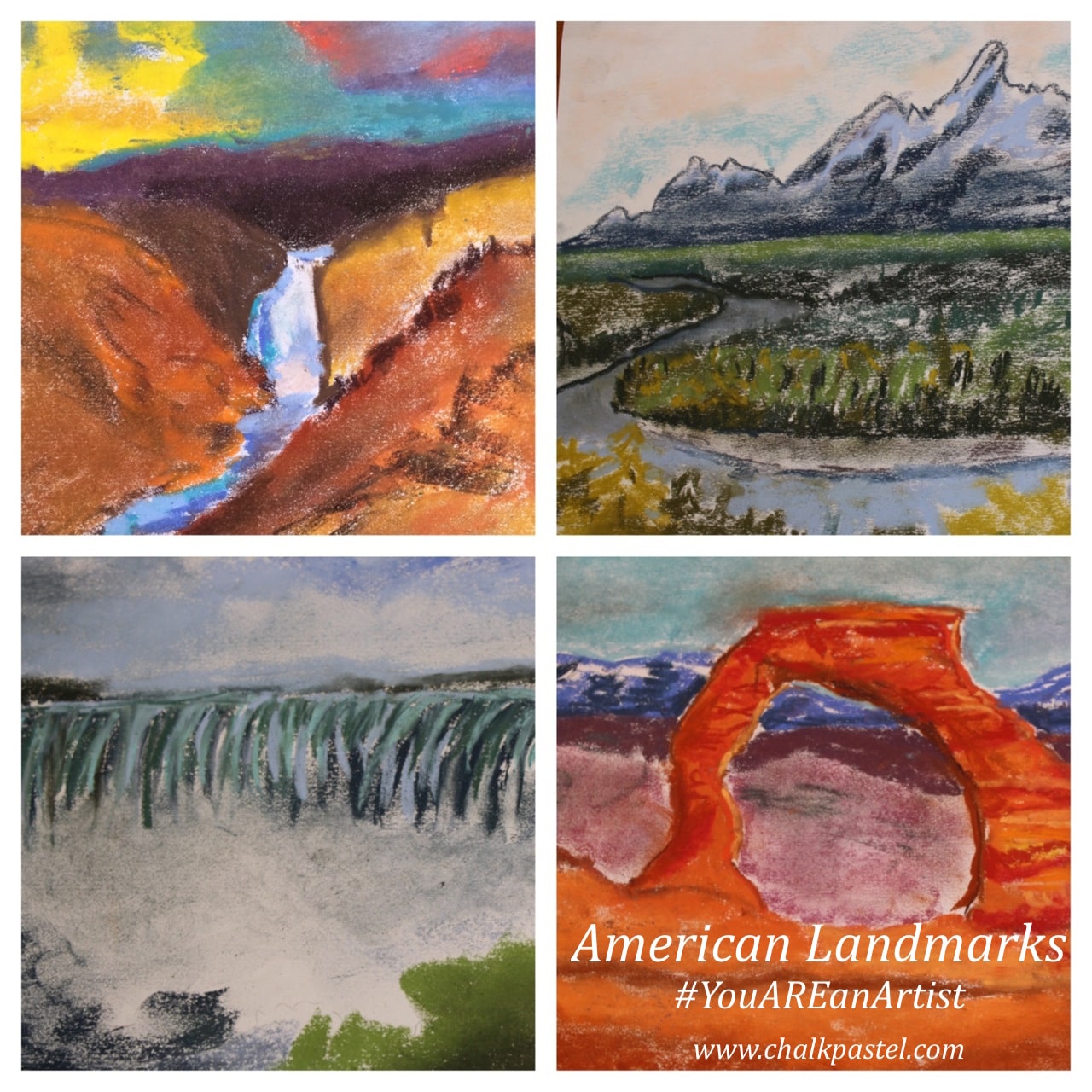 You can chalk through the seasons, history, American landmarks, and so much more!
3. Kids of All Ages Can Do It
There are few art mediums that you can do with a wide range of ages, which presents a problem for many homechooling families. School is a family affair for most of us and if you can't do it with all of the kids, it most likely won't get done. Luckily, chalk is different. It's simple to use and easy to clean up.
Because of its simplicity, students can complete a chalk art lesson, regardless of their age. Students with little art exposure will quickly understand the basics of chalk art and kids who consider themselves "artists" can explore more advanced chalk techniques.
I love that it's a forgiving medium, meaning there's no real right or wrong way to create with chalk. It's a great thing to try with students who doubt their artistic ability.
Chalk art can also grow with your children. Through age and experience, they will gain more control over their strokes. Their work will become more complex as they begin to layer and blend colors.
4. Pastels Work on Multiple Surfaces
Consider using something other than the standard white paper (either construction or pastel) when planning your art lessons. Chalk works well on colored construction paper, especially darker colors. Let your older kids use a canvas to create their own chalk masterpiece.
Use your pastels for some DIY projects by chalking on cardboard, card stock, wood, or slate. It's a great way to keep things interesting, plus you can save money by using what you have around the house or giving your creations away as gifts for friends and family.
Our Favorite Chalk Pastel Curriculum for Older Homeschoolers
Hands down, our favorite chalk art curriculum comes from Southern Hodgepodge – You Are An Artist. Tricia and Nana offer a bunch of free lessons that will help you get started. Recently they completed an amazing 5 day series called Harry Potter Illustrated, that's completely free! Watch and follow along to create your own wizard's wand.
They've also created 21 inexpensive eBooks that you can choose from, as well as a brand new series of chalk pastels video art courses.
You won't find anyone more knowledgeable or passionate about chalk pastel art for homeschoolers than the family behind this curriculum. They are determined to get everyone excited about this medium and constantly go out of their way to make their products accessible, cost effective, and high quality.
Don't Forget your Tools:
More Chalk Art Ideas:
Are Chalk Pastels a Part of Your Art Curriculum? If Not, They Should Be!