Tools for Homeschooling Middle School: Teaching Art
Art is a staple in our home. Both of my girls love it, so I do everything I can to encourage them. I know art is not on everyone's list of favorite subjects to teach, but with so many mediums to choose from, it's easier than you think to engage kids and spark their imagination.
My main suggestion for bringing art into your schedule is to start small. Find something that speaks to your child and find everything you can to support that interest. Over the years, I have purchased lots of different things for my girls to choose from when the inspiration strikes – from inexpensive how-to-draw books to detailed coloring books, to full art curriculum.
I have found that the more I surround them with tools they enjoy, the more creative they become.
This post contains affiliate links.
Here are a few of my favorite tools for teaching art to my older kids.
Art Curriculum
Chalk Art from Southern Hodgepodge
Chalk has become one of our favorite art mediums over the past year. Every time I pull out the chalks, my girls cheer. Hodgepodge has a wide variety of chalk tutorials and videos available. In them, you'll be introduced to Nana, who is sweet, funny, and passionate about chalk art. The lessons are easy to follow and extremely flexible, leaving plenty of room for individual creativity to shine through.
I have found chalk pastel art to be fun, frugal, and very accessible. It's a great way to start an art program in your home school.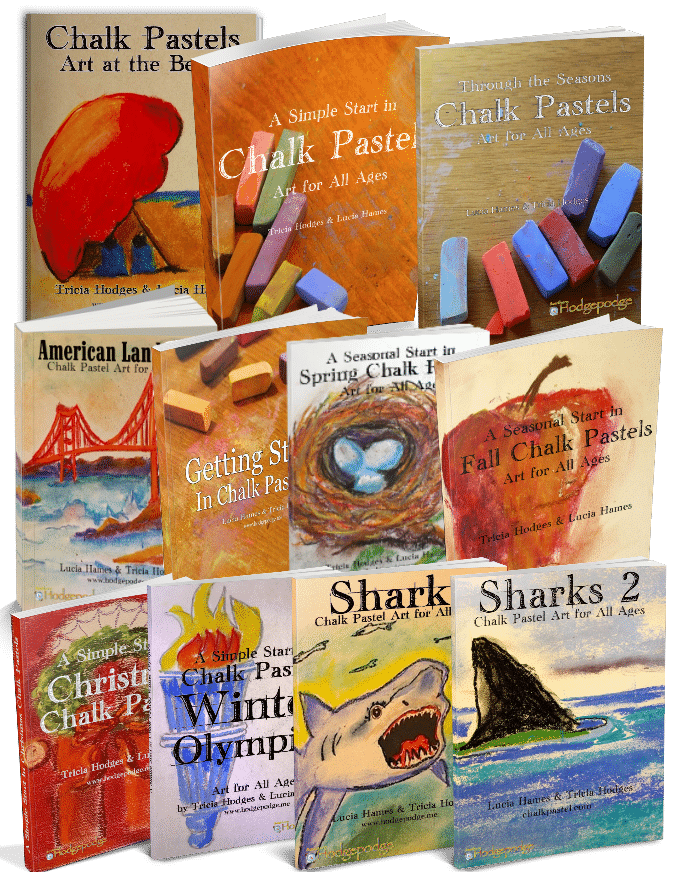 Drawing With Children: A Creative Method for Adult Beginners, Too by Mona Brookes
This is one of the best books I've found for teaching kids how to draw. She starts by teaching the 5 basic elements of shape, which kids then learn how to put together into compositions.
You could almost see the lightbulbs go off over my children's heads when they realized that art was made up of the shapes they just studied.
Mark Kistler's Virtual Classroom
Mark Kistler is an Emmy winning artist who has taught millions of kids how to draw in 3-D. Our family has invested in his virtual classroom for a while now. This gives us access to the vast pre-recorded Online Art Academy, as well as the weekly live drawing classes, where my kids can create right along with Mark Kistler. He even encourages them to send in their artwork and in return will send them one of his signed pieces.
These drawing lessons are a regular part of my middle schooler's schedule and since starting, she has learned how to draw a ton of 3-D objects.
I love that he encourages the students to make the art their own. Learn the basics and then work to develop your own style.
Mixed Media Workshops for Kids, Teens & Moms
These mixed media workshops are the best way for kids to try out a variety of art mediums. During the online class, you'll have the opportunity to complete 20 different mixed media projects. Alisha walks you, step by step, through each piece of work. Your children can work at their own pace because each workshop comes with lifetime access.
Every season you and your kids can participate in a new workshop. There are different projects for spring, summer, fall, and winter.
This is a favorite of many homeschooling families. It's a full curriculum that introduces students to 35 Master Artists, separated by age level (5-7, 8-9, 10+). You can purchase a single track, which includes lessons for 5 different artists or you can purchase a license for one of the bundled packs (one that includes all of the artists or one with all of the available ages together).
First, you will be introduced to the artist's life and famous works. After you have a better understanding of the artist, it's time to create! You'll begin by taking some time to learn a technique used by the artist. Then you'll use this as you create a version of the artist's work.
I love that this curriculum combines art history with art techniques.
Art Books, Videos & CDs
See the Light Art Projects (DVD lessons featuring Master Artist Pat Knepley)
These DVDs offer 4 step-by-step lessons, all related to a famous artist and a piece of their work.
The art class lessons teach kids art techniques, starting with the basics and moving on to advanced lessons in subsequent DVDs.
When you watch one of the art projects, you'll learn the elements and techniques you'll need to re-create a specific piece of art. Each project not only highlights a different artist, but it also teaches the student how to work in a different medium as well.
*Please note that this is a faith-based art program and Christianity is liberally talked about during the lessons.
Art Masterpieces to Color: 60 Great Paintings from Botticelli to Picasso by Marty Noble
We love Dover Art coloring books! They're a great way to have your kids re-create famous works of art, especially if they don't like to draw or paint. All they have to do is color.
Discovering Great Artists: Hands-On Art for Children in the Styles of the Great Masters
This fun book by MaryAnn F. Kohl is full of projects for kids to complete while they're studying particular artists.
Draw Write Now, Book 5: The United States, from Sea to Sea, Moving Forward (Draw-Write-Now) by Marie Hablitzel
This series of books walks kids through various drawing projects, teaching them how to complete them step-by-step. We've used them for years in our homeschool.
Napoleon to Lady Liberty: The World of the 1800s (Draw and Write Through History, 5) by Carylee Gressman
We study art along with history, so I use these to give my children famous icons to draw during our history lessons. The step-by-step instructions make it easy to draw parts of history.
Van Gogh (Getting to Know the World's Greatest Artists) by Mike Venezia
These books teach kids all about famous artists' lives and works. Each book highlights an individual artist.
Art Games & Hands-on Learning Activities
Educational Trivia Card Game – Professor Noggin's History of Art
Go Fish for Art Renaissance Cards
Art Online Resources
Artist Study Index Page from Our Journey Westward
Art Curriculum Archives by The Curriculum Choice Authors
Art Lessons from Harrington Harmonies
More Art Ideas for Middle School:
What are your favorite tools for teaching art to your middle school student?